Educator | Conductor | Singer | Composer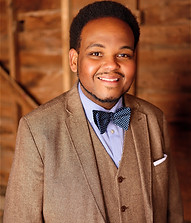 With a love of music as big as his last name, Tesfa Wondemagegnehu has been sharing joy and a vision for equity and justice through song for many years. Through a triumvirate of teaching, conducting, and performing, he has found a way to transform both students and audiences and to reach those seeking resolutions of peace, equality, and respect … through music.
​
Tesfa Wondemagegnehu serves as the conductor of the Viking Chorus and the Chapel Choir at St. Olaf College. He also served as the guest artistic director of one of North America's Largest LGBTQ+ choirs, Minnesota's One Voice Mixed Chorus. Tesfa maintains an active voice studio and teaches Music & Social Justice with the goal of helping bridge the gap of social injustice through music, dialogue, and inspiring participants to take action in their communities. Wondemagegnehu previously served as the Director of Choral Ministries at Westminster Presbyterian Church of Minneapolis, where he co-founded the Justice Choir movement with noted composer Abbie Betinis and celebrated conductor Ahmed Anzaldua. In the summer of 2018, Tesfa served as guest conductor of the children's choir at the Aspen Music Festival, leading them in a week-long journey on the Justice Choir Songbook. In 2019, Wondemagegnehu was named artist-in-residence for the Harvard University Glee Club where they co-created and executed the truth-telling W.E.B. DuBois Musical Project. And most recently, American Public Media's Julie Amacher and Tesfa collaborated on several nationally-distributed radio programs on Black Music.
​
Born and raised in Memphis, with an impressive collection of opinions on barbecue, Tesfa learned early on from one of his mentors that "Excellence is never an accident." It is achieved by exploring and freely disseminating the blessings bestowed upon each of us. Through the love and dedication of music teachers with whom he has studied, and an abundance of grit and determination, Tesfa has risen to be one of the most sought-after conductors and educators in the country and is on the cutting edge of music-related social justice movements throughout the United States. He summarizes his work in this simple doctrine: "We must be willing to walk through the fire while embracing and practicing unconditional and unrelenting care for one another. The rest is noise!"​
​
Tesfa has been taught and inspired by all of his students throughout his career. His favorite student/teacher, daughter Aïda Hope, born in 2017, is influencing him daily with new developments, all the while wrapping him around her tiny finger. It is still to be determined whether she will be a world-famous singer, a renowned conductor, an intergalactic compassionate ruler of the universe, or the ultimate grill master, but, nevertheless, she will be fierce.
​
American Public Media's Vaughn Ormseth has this to say about Tesfa: "He believes choral music transformed his life, saved him, so his passion for it is on a cellular level. He loves the formal tradition of the art form, but plugs his own kind of electricity directly into it. He has a millennial's impatience with systems." And so, with music's undeniable power and potential to save lives, and the impatience to wait for others to make change, Tesfa will continue to transform the world with his vision of abundant education, justice, joy and Grace.
​
Written by Janice Teliczan, Winter 2022